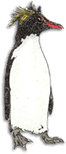 Newsletter
To keep track of my new work, exhibitions and what I am up to then simply enter your email here and my friendly penguin will update you with my latest news! Thank you
Exhibitions
2011
2009
2009/8
2008
2007
2007/6
2002
"I feel most strongly that we constantly take and profit from the sea and put very little of any good back in to it"
The sale of my work helps support the following projects & organisations:
Printing the Etching or Mezzotint Plates
This is the process for printing the plates after they have been prepared using either the Etching or Mezzotint process.
Inking and wiping the plate
The Mezzotint or Aquatint plate is heated and the stiff ink is forced in to the lines and burrs of the plate using small circular motions with a leather dabber. Excess ink is removed initially using a very inky pad of wiping canvas or scrim, this is repeated gradually using cleaner and cleaner canvas until the plate is clean, yet the ink still remains in the lines and burrs of the image. Finally using French chalk, the plate is 'hand-wiped', this removes plate tone and allows the image to become more sharply defined.
The paper for printing needs to be soaked in water and laid down for a number of days, this softens the paper allowing it to be forced more easily into the grooves of the plate during the printing process. The pressure required for printing is great, several tons, and this is achieved by using an Etching Press.
The plate is heated slightly to help release the ink and the combination of the soft damp paper and the warm ink forces the image in to the paper.
Printing the plate
The plate is rolled through the press onto slightly damp paper - the paper has been soaked and laid down for a couple of days.
The finished print
The ink is warm, the paper soft, so the paper is forced into the lines creating the print.
The press is a large mechanical device, with two main rollers placed above each other with a flat bed of steel that travels between the two. The sliding bed is moved from one end of the press to the other, with the inked plate resting face up. The softened paper is placed over it and then several wool blankets on top. The blankets are compressed as the rollers move, thus forcing the paper into the plate and so lifts out the ink. The impression of the copper plate in the paper creates the distinctive 'plate mark'.
Once the plate is printed, the paper is carefully removed from the plate, a sheet of tissue paper is laid over the print and it is left between sheets of blotting paper under a heavy board to dry for a few days. The process then starts again, the plate needing to be re-inked and re-wiped for each new print!