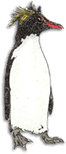 Newsletter
To keep track of my new work, exhibitions and what I am up to then simply enter your email here and my friendly penguin will update you with my latest news! Thank you
Exhibitions
2011
2009
2009/8
2008
2007
2007/6
2002
"I feel most strongly that we constantly take and profit from the sea and put very little of any good back in to it"
The sale of my work helps support the following projects & organisations:
About Me
I've been a printmaker for over 25 years, specialising in etchings and mezzotints. I am fortunate to live and work in wonderful surroundings near Plymouth beside Hooe Lake.
Inspiration
Many of the sea creatures that I have drawn, have come from childhood memories- a visit to the wonderful Musee Oceanographic in Monaco where I was captivated by the shell collection and the giant squid. My mother asked if I would like to go and look for some shells on the beach, apparently I replied that we would not find any, as the prince had all of them in his museum!
Family holidays in North Cornwall, shrimping and crabbing.
Jaques Cousteau and 'The Silent World' fascinated me as a child - I wanted to learn to dive and discover the wonderful creatures that he filmed. Even in black and white I was intrigued by this other world.
Jules Verne - the amazing voyage of the Nautilus and Captain Nemo with the amazing graphic portrayal of the giant squid attack and mysterious underwater world he described, fired my imagination and continues to do so.
The KonTIKI
Another family holiday included a trip to Scandinavia. In Oslo I saw the Kon Tiki, Thor Heyerdahl's balsa wood raft. Models of flying fish were scattered about the deck. Forty years later, while on watch on a tall ship, "Tenacious" in the Caribbean, a flying fish hit me on the arm and flapped to the deck like a clockwork toy. I picked it up and threw it back in to the sea, sadly, the following morning I found one that had not been so lucky. It did, however give me the chance to study it and make some drawings.
"Old Four Legs" the fossil fish story, my memories in the 60's of the fish they thought extinct for millions of years-the Coelacanth has become one of my favourite subjects - I know the preserved specimen in the Natural History Museum quite well!
All these memories and experiences have been instrumental in my life and my career.
Scuba-diving
I learnt to dive with the Plymouth Sound Branch of the BSAC. Months of training in a swimming pool, then my first open water dive at Renney Rocks. I saw a huge blue starfish, my weight belt fell off so my instructor sat on me. Undeterred, I love diving in Plymouth Sound and have had some wonderful diving holidays in warmer waters.I have even been fortunate enough to dive in aquariums - in Barcelona's L'Aquarium and at the Aquarium Finisterrae in La Coruna where I had an exhibition of my seahorse etchings. In La Coruna I was asked to feed a Sunfish, (Mola mola) I had a plastic box with chopped squid and had to fend off other fish each time I took of the lid, as the remains of the food had to be weighed to see how much the sunfish had eaten! Sunfish are some of my favourite creatures, gentle fish that lie on the surface basking in the sun.
We have a Hysucat, a rigid inflatable catamaran called 'Architeuthis' so through diving, fishing and occasionally successful potting I can observe marine creatures very closely.
I draw from life as much as possible, mainly in aquariums, London Zoo and the Natural History Museum in London. I'm very fortunate to live in such a beautiful part of the world. Diving in Plymouth Sound is wonderful, after early dives 20 years ago it's still exciting and I'm constantly amazed by the colour and the diversity, cuckoo wrasse, cuttlefish, pipefish et cetera.
Conservation
Working so closely with marine life, drawing it everyday I am increasingly aware of the danger that faces many sea creatures from disastrous oil spills and pollution.I remember tar on the Cornish beaches from the Torrey Canyon in 1967 to the more recent but equally disastrous 'Prestige' oil spill near La Coruna in 2002.
As well as overfishing and constant pollution-decades ago Jacques Cousteau remarked that 'the Sea is a universal sewer', sadly he was not wrong.