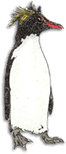 Newsletter
To keep track of my new work, exhibitions and what I am up to then simply enter your email here and my friendly penguin will update you with my latest news! Thank you
Exhibitions
2011
2009
2009/8
2008
2007
2007/6
2002
"I feel most strongly that we constantly take and profit from the sea and put very little of any good back in to it"
The sale of my work helps support the following projects & organisations:
Plate Making & Printing
All my prints are 'Limited Editions' - A limited set of identical prints taken from a finished copper plate that has been pre-prepared using either the Mezzotint, Aquatint, Drypoint or the Etching process.
Each prepared and inked plate is rolled through an etching press (or in my case a converted Victorian mangle) on to Somerset paper. The dried prints are individually signed and consecutively numbered. In most cases the prints from etched plates are hand coloured.
The total edition number is very much dependent on the process used, Etchings tend to have a higher print run of around 200 as they are harder wearing, whereas Mezzotints wear out more quickly and due to their softer nature have a much smaller print run of around 50.
Once an edition is completed the copper plate is then cancelled by drilling a hole through it, or engraving a line across it to prevent further printing.
See the full method and the descriptions of the processes here:-