Scorpion Fish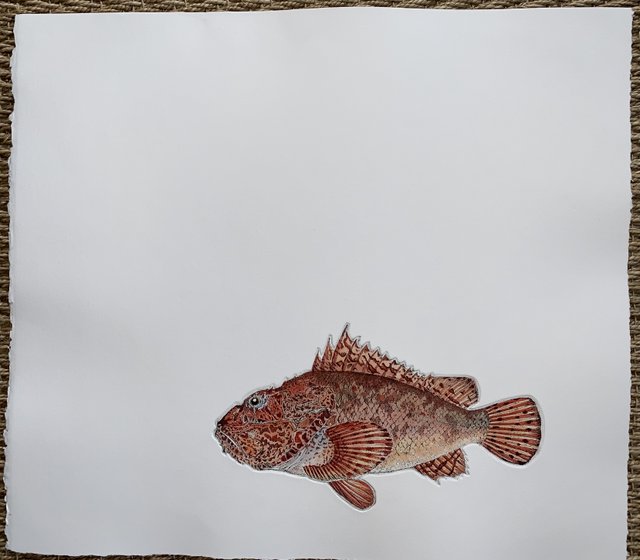 "This fish was landed at Plymouth Fish Market and was luckily ( for me!) spotted by Moby Nick, one of the local merchants. I swopped it for some homemade marmalade and damson gin and it went into the freezer until I had time to draw it. Scorpion fish are found in British waters, but you are more likely to see them in French markets as Rascasse, one of the vital ingredients for Bouillabaisse! They are extremely well camouflaged and I saw some nestled amongst coral around the base of a lighthouse whilst diving at Sardinaux in the Bay of St.Tropez. I remember the dive very well, I hired the kit and had half a wetsuit and no depth gauge. "
"Hover your cursor over the image to 'zoom' in and reveal more detail of the Scorpion Fish"
Scorpion Fish Scorpion Fish (Hand coloured etching)
Outside paper size 54 cms x 48 cms
Plate size approx. 28 cms x 16 cms
Edition size 40.
£235.00
The Scorpion Fish print is supplied mounted in white acid free board, backed and wrapped in cellophane