Sturgeon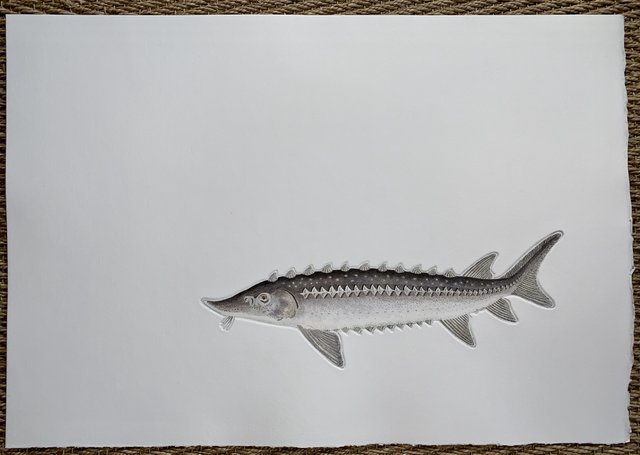 "The inspiration behind this etching is from drawings of a beautifully modeled silver Sturgeon on a caviar dish belonging to friends. While at Seville Aquarium earlier this year, I was able to observe Sturgeons at very close quarters, so this print is a combination of drawings of the silver fish and live specimens. Seville Aquarium is situated on the banks of the Guadalquivir River where sturgeons used to be found, sadly they are virtually extinct there. The shape of the fish intrigued me, the skeleton is mainly cartilage with shield shaped bony plates in rows along the body and angular spines on its back and belly, its snout is long and shovel shaped. All the different elements I love to draw! I was curious about this fish as it is also regarded as a living fossil rather like the Coelacanth. They spend the first three years of their lives in the rivers where they are born before venturing into the sea. The fish matures at around 20 years old, with the female laying up to three million eggs, although spawning only occurs every two or three years. The lifespan can exceed 150 years. The copper plate was cut out roughly with a jigsaw before the wax ground was applied. After I had etched it, I spent two days filing and burnishing the edges. I need to practice my jigsaw cutting skills....."
"Hover your cursor over the image to 'zoom' in and reveal more detail of the Sturgeon"
Sturgeon Sturgeon. (Hand coloured etching)
Outside paper size 67.5 cms x 49 cms
Plate size approx. 42 cms x 15 cms
Edition size 40.
£235.00
The Sturgeon print is supplied mounted in white acid free board, backed and wrapped in cellophane