The Game Cook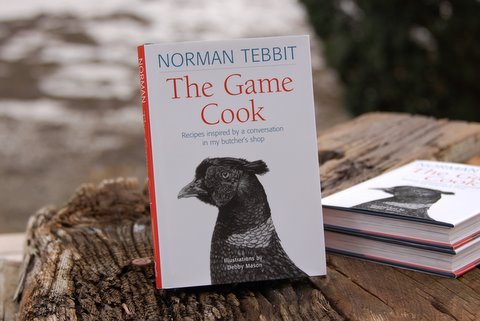 "Order signed copies of The Game Cook. Signed by Norman Tebbit and Debby Mason. Illustrations by Debby Mason. Norman Tebbit:- It all started in my local butcher's shop, the New Street Butchers in Horsham, West Sussex. I often took in to him pheasants, partridges and ducks from my days out shooting. I was looking at the pheasants priced between £4 and £5 and said: 'Why do people pay more for a rubber-boned supermarket chicken than they would for a pheasant?' 'Well,' he replied, 'I think mostly it's because they don't know how to cook them - and they think it would be very difficult.' That, I thought, is probably correct, but something should be done to put it right. So I wrote down a couple of my favourite pheasant recipes, printed a few dozen copies and put them on his counter (probably a breach of Hygiene and Food Handling Directive Two Million and One from Brussels). To my delight, the recipe sheets disappeared - and so did the pheasants. From then, I was on the hook and bit by bit I gathered together recipes we used at home, put them all together and created The Game Cook. A lot of my friends were somewhat surprised that I should have written a cookery book rather than one about how they are all cooking the books at Westminster, but I was interested in food even before politics. In fact, I cannot remember a time when I was not interested in food."
"Hover your cursor over the image to 'zoom' in and reveal more detail of the The Game Cook"
Last few copies of 'The Game Cook' by Norman Tebbit still available whilst stocks last - Signed by the author and illustrator. Now out of print.
£30.00