Hammerhead Shark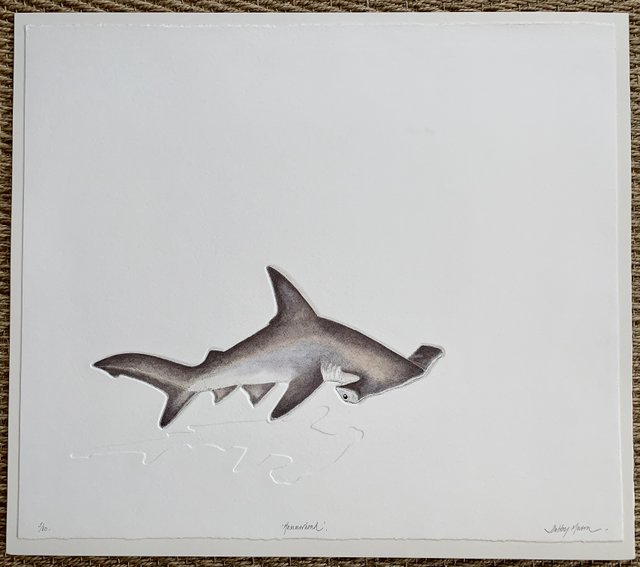 "I do not do many etchings of sharks, but this print was inspired by some lovely diving reminiscences with a friend. I always write up my dives in my logbook, it is such a wonderful diary of memories. I was very lucky to have been able to see Hammerheads while on a live aboard diving holiday in the Maldives. This is my logbook entry:- Muddivaru Corner. 21 minutes, 33.7m, 3-4 metre long shark on edge of reef and one smaller. Others 7-10 metres away in open water. Lost weight belt at about 18 m. Big nose unicorn fish. 6 am start, back by 7 for breakfast. An omelette with tomatoes, chillies, coriander, onions and cheese."
"Hover your cursor over the image to 'zoom' in and reveal more detail of the Hammerhead Shark"
Hammerhead Shark Hammerhead (Hand coloured etching with blind embossing)
Outside paper size 60 cms x 51 cms
Plate size approx. 35 cms x 16 cms
Edition size 60.
£185.00
The Hammerhead Shark print is supplied mounted in white acid free board, backed and wrapped in cellophane